Our Furry Acrobats Offer Exciting Canine Entertainment Throughout the Midwest
---
Our shows combine audience interaction, unbelievable pet tricks, exciting music and some ridiculously cute pups to create a unique, engaging experience any audience will love.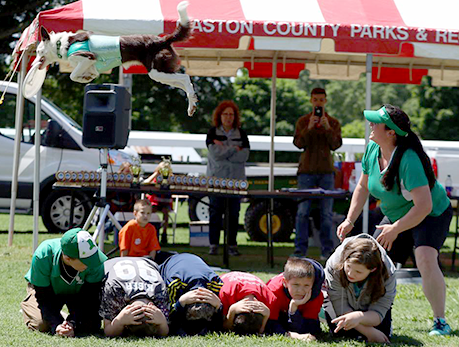 Team Zoom Canine Entertainment performs incredible dog frisbee, agility, and pet trick shows, featuring the best canine athletes in the Midwest. Our rescue dogs and enthusiastic handlers will delight and entertain all your guests at your next special event - we guarantee it!
Our performances are for any sized crowd looking to have a good time. Our dogs aren't just extreme stunt dogs, they love meeting the audience too! If you're looking to have your guests laugh and truly experience an unforgettable show, we're your first act!
Our team of world-class handlers and awe-inspiring canine athletes perform across Ohio and the Midwest!
Meet the Teamkeyboard_arrow_right
Delight and Surprise Guests at Your Next Special Event with Team Zoom Canine Entertainment
---
No show is too big or too small for Team Zoom Canine Entertainment! We customize each performance, tailoring our outfits, music and choreographed routines to match any event's theme!
Team Zoom is a self-contained and professional entertainment show providing:
Barriers to outline performance area
Choreographed music
Agility equipment
Photo opportunities with the canine athletes
Insurance
Team ZOOM banners
Sound system with speakers and microphone
Tons of excitement and fun!
Our action-packed shows feature our dogs performing amazing, advanced stunts to upbeat music that will have any crowd roaring!
Team Zoom Dogs Will Do Anything for Fun!
---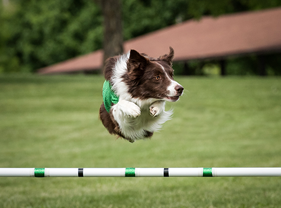 From flying through the air to catch a frisbee disc, to showing off agility skills by darting through an obstacle course, our canine athletes perform the most amazing tricks. Our stunt dogs love to get the crowd involved as well, so get ready for you and your guests to be a part of the show with spectator games!
Team Zoom performs at a variety of venues including sporting events, festivals, charity functions, state fairs, county fairs, children's birthday parties and everything in between! To learn more about our shows and to check availability, contact us today at (937) 607-4594!