Action-Packed Canine Entertainment Near Ohio
Our Canine Entertainment Is The Best Throughout The Midwest!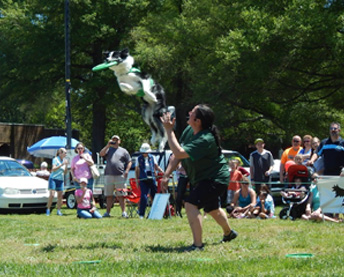 Team Zoom Canine Entertainment offers an action-packed performance perfect for all ages! From unbelievably long Frisbee catches and gravity-defying agility vaults, to jumping rope, hula-hooping, dancing and darting through an obstacle course, our expertly-trained border collies perform one of the leading dog shows in the entire Midwest.
You'll feel completely comfortable around our canine athletes, and the friendly and professional dog handlers that work with them are licensed and certified dog trainers with years of experience. We are also fully insured for your protection.
---
Why Choose Us For Your Canine Entertainment?
From flying through the air to catch a frisbee disc, to showing off agility skills by darting through an obstacle course, our canine athletes perform the most amazing tricks. Our stunt dogs love to get the crowd involved as well, so get ready for you and your guests to be a part of the show with spectator games!
Team Zoom Canine Entertainment performs incredible dog frisbee, agility, and pet trick shows, featuring the best canine athletes in the Midwest. Our rescue dogs and enthusiastic handlers will delight and entertain all your guests at your next special event - we guarantee it!
Here at Team Zoom our Canine Entertainment shows provide:
Barriers to outline performance area
Choreographed music
Agility equipment
Photo opportunities with the canine athletes
Insurance
Team ZOOM banners
Sound system with speakers and microphone
Tons of excitement and fun!
Our performances demonstrate the incredible bond between animal and handler -- all while providing an exciting experience for all guests. And as an added bonus, after each show, the audience can meet and interact with a few of our canine athletes. Our dogs love to meet audience members of all ages and are great with kids and families.
---
Meet Some Of Our Team Of Canine Athletes
Zephyr
The ultimate multi-sport athlete and trick dog, Zephyr loves Frisbee, agility, and dancing. He's always been a performer at heart and has even been in commercials and movies!
Gruve
Gruve is another star! He has been in both a commercial and a print ad. When he's not playing Frisbee or flyable during a show, his favorite thing to do is dock dive.
---
If you are looking for the best Canine Entertainment Company in Ohio, Team Zoom can help! Contact us to learn more or hire us for your next event!